As we approach the end of 2020 and the beginning of another year, this piece of advice from Darla Caughey, Administrative Supervisor of Customer Service at Austin ISD's Office of Human Capital, has been top of mind: 
"No one really knows what's coming at us down the road, especially this school year. So what I tell our staff—and what I would advise other districts—is to be proactive." 
This remains particularly true as we continue to face challenges brought on by the COVID-19 pandemic—such as navigating virtual learning, managing an increased volume of inbound communications, and preparing for re-exit. 
Below are 3 strategies that you can implement beginning today to prepare for a better 2021 and beyond. 
1. Stay connected with your community during re-exit
Just as schools navigated the exit process when the pandemic first hit, they'll need to prepare for the reality that school buildings may need to close again and students, teachers, and staff will need to re-exit. 
For some, a re-exit strategy may be critical at multiple points in the school year—including non-pandemic instances (such as inclement weather). Others may find they don't have to apply their strategy but can confidently say they are ready and able to serve their school community in any situation.
Are you ready for re-exit? Download our free guide that outlines 6 key strategies for staying connected with your community during school closures. GET THE GUIDE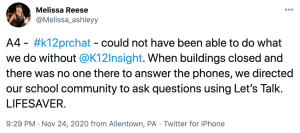 Let's Talk!, our cloud-based customer service ticketing solution, is helping K-12 districts across the nation keep their school community informed and reassured in times of uncertainty, such as re-exit. The tool makes it easy for the district to share important information quickly but, even more importantly, it makes it easy for community members to reach (and get a timely response from) the right person at a school or district. With robust collaboration features, Let's Talk! also enables staff to collaborate within and across teams and departments with ease—even if staff members are scattered across multiple buildings or working from home.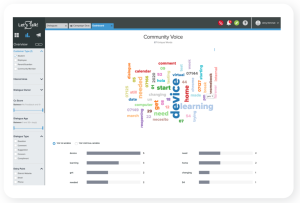 A back-end data dashboard provides key metrics and insights in real-time—including average response time, trending topics, and customer satisfaction score—to help you understand your community's needs, determine strengths and opportunities for improvement, and develop responsive action plans.
2. Give families an easy way to get answers to FAQs—without tying up your internal team
Responsiveness is everything this school year. Community members have an increasing number of questions and concerns during a fluid school year like this, and ensuring they get a timely and accurate response every time they reach out is critical. 
But this can be difficult to ensure with limited time and resources—not to mention countless other priorities. That's why more school districts are turning to automation, but school leaders need more than typical chatbots offer. So, we used our more than a decade of experience in the K-12 space plus data analysis from over 300 school district partners across the nation to give you an unparalleled chatbot experience. 
Our chatbot, Let's Talk! Assistant, is designed specifically for K-12 school districts to help you:
Give community members a quick, easy way to get answers to FAQs 24/7

Streamline interactions—freeing up staff and reducing overall support costs

Correctly answer a greater number of questions with Artificial Intelligence (AI) and Natural Language Processing (NLP)

Measure your impact with real-time data, insights, and themes

Get a comprehensive picture of customer experience with seamless

Let's Talk!

integration
Plus, you get all the benefits of a true partnership—from a collaborative onboarding process that gets your chatbot live in just 3 weeks to exclusive data-backed Essential FAQ lists to a communications kit to ongoing support from our team.
Indiana's Fort Wayne Community Schools, one of the first districts to implement Let's Talk! Assistant, saw immediate results. In just the first 30 days, the district's chatbot (which they've named Charley) answered more than 400 questions from over 200 community members, with an average customer satisfaction score of 9.6 out of 10. 
"Let's Talk! Assistant is as efficient for us as it is for families," said Krista Stockman, the district's public information officer. "It gives parents an intuitive way to ask questions whenever their schedules allow—even if it's after eight or nine at night—and get an immediate, precise response. That frees up our staff to attend to other responsibilities, including high-touch customer interactions."
3. Ensure quality interactions by improving customer service soft skills
A quality school experience extends beyond just teaching and learning. Increasingly, schools are measured by the feeling that students, parents, teachers, and staff get when they engage with you and your team—turning every interaction (whether in-person or virtual) into an important opportunity to provide exceptional customer service. 
But ensuring positive interactions takes consistency, intentionality, and training. That's why we designed our virtual Supercharged Cx Skills professional development workshops. These engaging, expert-led sessions are strategically designed to give your team the training and practice they need to supercharge critical customer service skills and improve the school experience. 
Learn more about our virtual workshops, including specific topics.
These workshops are delivered virtually—with an hour of live virtual instruction and a subsequent self-paced activity—and can be completed anywhere, even if teachers and staff are working from home. 
Ready to jumpstart 2021 but not sure where to start? Reach out. We'd love to chat with you and see how we might be able to help you solve the challenges you're facing.