Winning a tax referendum for your school district won't happen accidentally. 
It takes meticulous planning, a lot of behind-the-scenes work, and a personal touch from you, the superintendent. 
Recently, K12 Insight hosted two retired superintendents to talk about their collective 20 years of experience and five tax referendum victories. Dr. Michael A. Grego (Pinellas County) and Dr. Debra Pace (Osceola County) joined us and shared their stories — plus their proven step-by-step blueprint for success. 
Osceola County's path to success
In Osceola County Schools, the journey to a positive vote began with a deep understanding of community, local political leader, and board member sentiment. This included district and community leadership, principals, parent spokespeople, and union representatives. 
Dr. Pace made a list of questions and went on a discovery mission to find out if her key stakeholders were:
United or divided about her referendum's big topics and goals  

Interested in a prominent role or were more likely to work behind the scenes 

Prepared to oppose her vocally if they disagreed
Preparation was key, and she relied on careful consideration of potential questions and opposition to build clear and consistent messaging addressing the "why, what, how, and when" of her campaign. 
But the biggest lesson from Osceola County's experience is the power of good customer service and a personal touch.
Between March and November of 2016, Dr. Pace conducted over 120 informational presentations, effectively engaging with the community. She sought out opinions, in-person, virtually, and through their two-way dialogue customer service platform, and, in the end, earned the trust necessary to successfully pass her referendum.  
Pinellas County's winning strategy
In Pinellas County, Dr. Grego asked one central question: "Does the community trust leadership to manage new funds?" In other words, does the community believe the school district is moving in the right direction?
To bolster trust and provide accurate information, Dr. Grego implemented several strategies. He and his team established an independent oversight committee, hosted social media and public information sessions, and added an accessible "Ask questions about the tax referendum!" feature on their website. Additionally, they utilized K12 Insight's Let's Talk platform to facilitate open, two-way communication.
Like Dr. Pace, Dr. Grego worked hard to build trust and deliver excellent customer service — not just in the weeks before election day, but for months (even years), all with the understanding that trust is a never-ending, ongoing effort that lays the foundation for every successful initiative.   
His efforts paid off, achieving an almost unheard-of approval rating: 80%.
Your blueprint for success
Thanks to Dr. Pace and Dr. Grego, we're excited to provide this step-by-step guide to help you achieve success in your school district:
Tax referendum guidebook
A successful tax referendum campaign is not accidental. It takes a lot of effort and strategy on the part of the superintendent — and building the momentum to a positive outcome takes time. This guide is a step-by-step blueprint with tested strategies any superintendent or school district leader can use to pass a referendum for their community.
Get my guide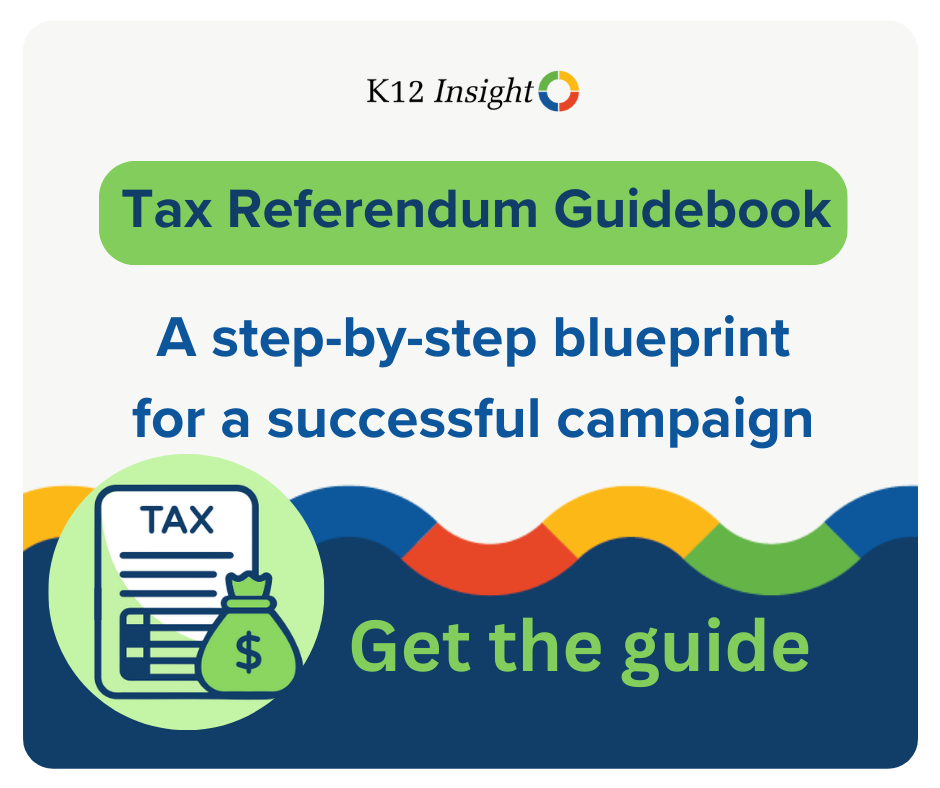 Both Osceola and Pinellas County's success stories highlight the importance of delivering superior customer service, ensuring clear messaging, and building trust. Winning a tax referendum is a journey that requires dedication and a deep commitment to serving your community. Following their step-by-step guide will increase your chances of achieving a positive outcome for your school district's next levy.
Both of these districts use Let's Talk to provide a single source of districtwide truth, counter misinformation, track critical metrics, bolster trust, and so much more. Pinellas and Osceola County deliver customer-centric service, which helps them achieve so much for their community! 
To find out where you rank compared to other like-sized districts on the journey to superior customer service, take this quick, two-minute quiz.
Originally published October 9, 2023
Last updated December 1, 2023