K12 Insight has been helping school districts around the country deliver superior customer service for over a decade. Through our experience with superintendents, school communications professionals, and other districtwide leaders, we've learned that there are four phases to customer service delivery:
Phase one: Reactive customer service
Phase two: Tactical customer service
Phase three: Strategic customer service
Phase four: Customer-centric service
Understanding the current state of customer service in your school district
These phases are determined by characteristics like use of customer intelligence and technology, district culture, and efficiency of processes and workflows.
Your quiz score shows which phase of customer service you're currently in.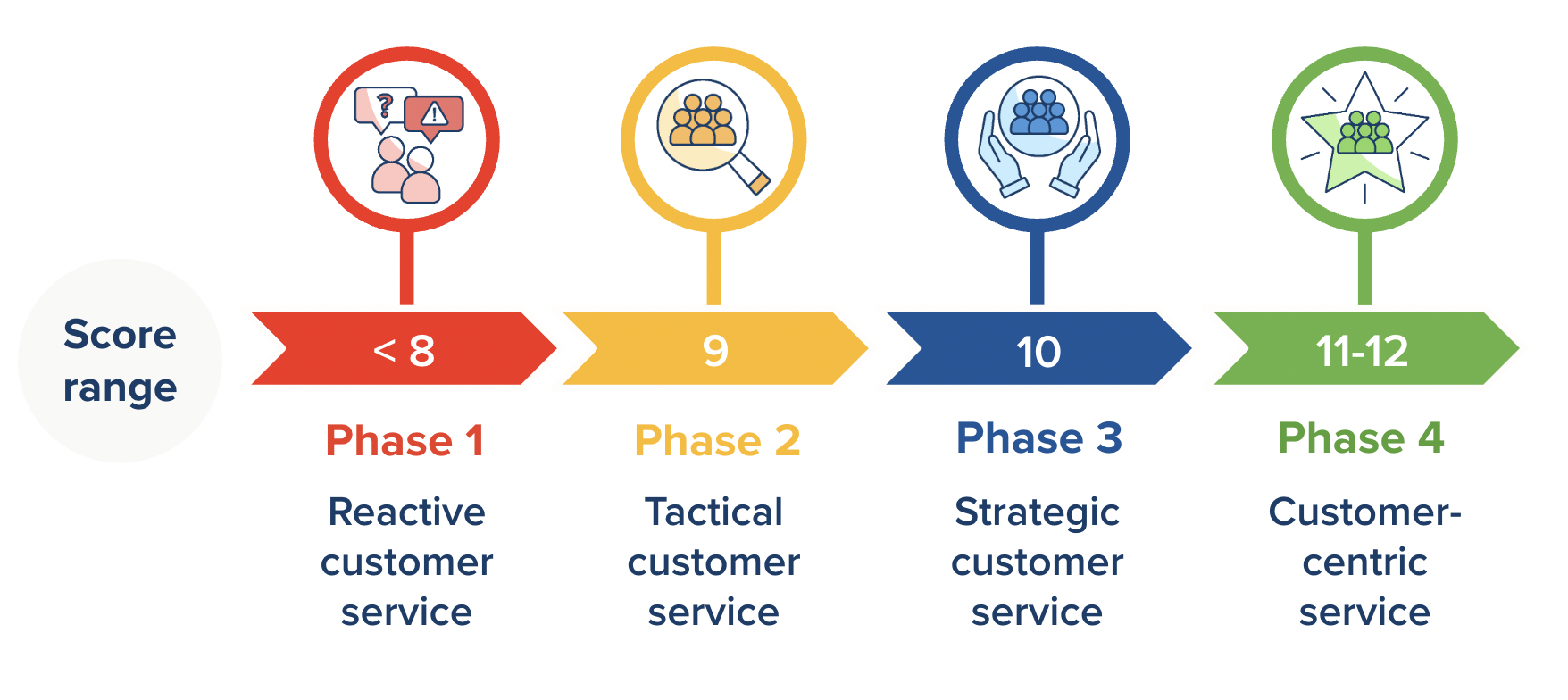 Reactive customer service (>8) is where most districts find themselves today. It's exactly what it sounds like — your district leadership team is reacting to inbound stimuli on a day-to-day basis. In this phase, your team may be unaware of how common interactions influence customers' perceptions of the district. Communications may be siloed between buildings, departments, and essential offices. Ultimately, characteristics of the Reactive Phase culminate to create a less-than-ideal state of customer service, which further leads to dissatisfied customers.
The Tactical Phase of customer service (9) happens when school districts create and communicate a vision for customer service, training key staff and high volume areas on delivering against that vision. Most importantly, districts in the Tactical Phase are generating and evaluating data to drive decision-making.
In the third phase, Strategic customer service (10), the vision for customer service has expanded well beyond just the frontline, high-volume staff members. Here, all staff are trained up to execute the districtwide vision! Most importantly, the metrics of customer service quality are consistently captured and acted upon.
The final, "North Star" phase is a customer-centric service model (11-12). Here, the vision of customer service has become a core value. For parents, staff, and students, customer service is simple, swift, and reliable. In districts delivering customer-centric service, parents have gone from potential detractors — publicly sharing frustrations with the district's service or communications — to high-level promoters of your district — willing to tell anyone who will listen about positive interactions with district staff.
Breaking down the importance of school customer service
Especially today, in the school choice era, enrolling and keeping families is a concern for every district leader. But seemingly disconnected issues leading to student enrollment declines — like bond failures, high staff turnover, or policy debates — are often symptoms of a larger issue: poor customer service.
K12 Insight does customer service for people who don't get to choose their customers. Break down the current state of customer service in your school district or learn how to start the journey of improving customer service by registering for a free, no-obligation workshop with our team of K-12 customer service experts.
Diving deeper into your district's customer service
Schedule your free, no-obligation workshop
Originally published July 14, 2023
Last updated July 14, 2023