NSPRA 2023 was a huge success! 
We heard some incredible stories, learned about insightful research, and expanded our understanding of #schoolPR through dynamic speaker sessions. 
Here are the top five lessons we took from #NSPRA2023:   
1. Immediate action on district culture > endless strategizing on improvement plans 
Strategic plans matter — and go a long way toward injecting positive district changes. But without the action of frontline staff, that strategy runs the risk of staying on paper.  
We heard so many stories about districts meeting their communities where they are — from prioritizing accessible communications channels like texting lines or AI-powered chatbots to building a traveling family engagement bus that delivers resources like learning materials, diapers, and food to students and their families.  
In short, make sure your strategies for engagement and culture are actionable, accessible, and relevant to community needs. 
Pro tip: Make your next strategic plan the best yet with our how-to guide for district leaders.   
2. Truly understanding your community starts with listening (to people and data)
Of course, we are always listening to our communities! But how often are we tuning in to what lies beyond the anecdotes? The loudest voices in the room don't always represent the majority of opinions. 
We heard many district presenters speak on best practices for gathering feedback and opening the door to community opinion, and it reminded us of Rockford Public Schools' Listening Tour. 
In 2020, Superintendent Dr. Ehren Jarrett and Chief Communications Officer Earl Dotson Jr., APR traveled to classrooms around their district, meeting with principals, teachers, and other building personnel to help them best understand needs and interests. For them, internal trust and relationships have been the foundation of fostering a climate that supports improvement. 
Our district partners rely on continuous data from their districtwide interactions (like average response time and customer experience scores) to gauge their community's satisfaction with communications efforts. Diving into data helps them justify key initiatives and ensure stakeholders — including board members or leadership teams —  feel confident the district is moving in the right direction.   
3. In 2023 (and beyond) communications practices are continuing to evolve — and PR professionals are up to the challenge
We attended outstanding and well-deserved award ceremonies during this year's NSPRA seminar. 
Rick Kaufman, APR from Bloomington Public Schools (Minnesota) won the Presidents Award — NSPRA's highest award for an individual — which honors leaders for outstanding contributions to the field of educational public relations and to the association. 
Bloomington Public Schools uses Let's Talk to gather feedback on strategic planning ideas and general district initiatives. 
"When you're doing what you were meant to do, you never stop growing. You never stop serving others. And, you never stop seeing the joy." — Rick Kaufman, APR
Jason Manuel from Germantown Municipal Schools (Tennessee) won the Communication Technology Award for Superintendents, which recognizes superintendents for "leadership in redefining, upgrading and integrating cutting-edge communication technology to improve and expand outreach and engagement with education stakeholders — both internal and external." 
Germantown Municipal Schools uses K12 Insight's Let's Talk platform to manage inbound inquiries. 
"We have to be persistent in telling our story as champions of public education." — Jason Manuel
Let's Talk  has played a key role in helping districts achieve their communications goals. It ensures messaging consistency through response templates, shortens ticket times by streamlining messages into a unified inbox, and gives district leadership visibility into customer satisfaction through real-time data and predictive analytics. 
4. Customer service is the number one reason parents cite for exercising school choice 
During the 2023 NSPRA Seminar, K12 Insight hosted a series of customer service workshops. We shared data from our most recent national report, which found 30% of families don't know where to go when they have a question. This lack of communications access and clarity directly related to the percentage of families actively considering other educational options. 
In our workshops, we talked about the easiest way to start developing an intentional customer service strategy, including by asking questions with your leadership team about key communications metrics such as: 
How easy is it for a customer to find the right person or department to answer their question? 

How quickly will they get a response?

What is it like to experience your district as a parent? 
If you're interested in answering these questions with the help of our K-12 customer service experts, fill out the form at the end of this blog post and register for a free, no-obligation 1:1 workshop with your cabinet.
5. People love snacks! 
We had a blast building Snackle Boxes to help everyone at the conference "snackle" their mid-session cravings — and sharing how K12 Insight is helping districts around the country  tackle their customer service issues!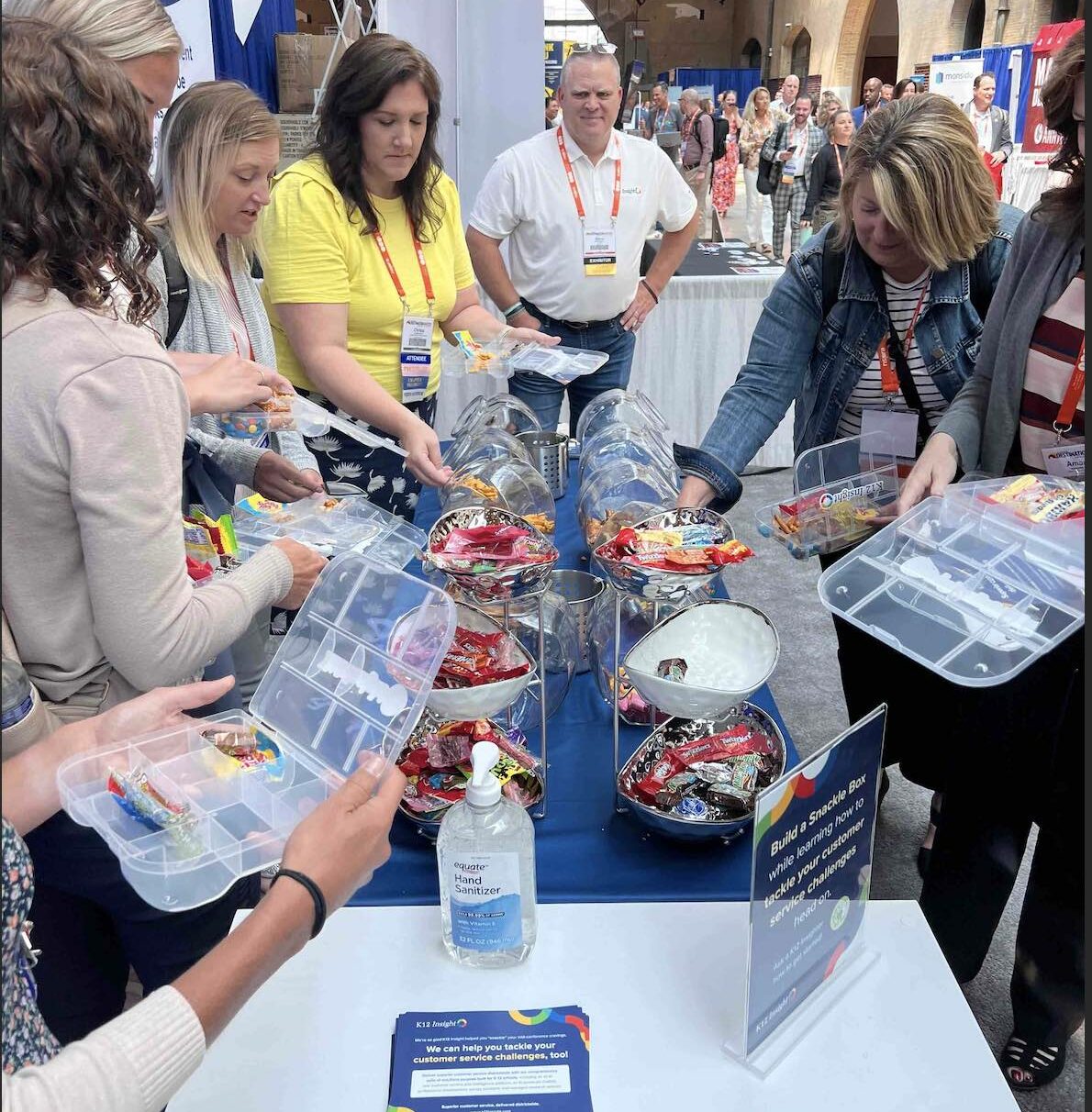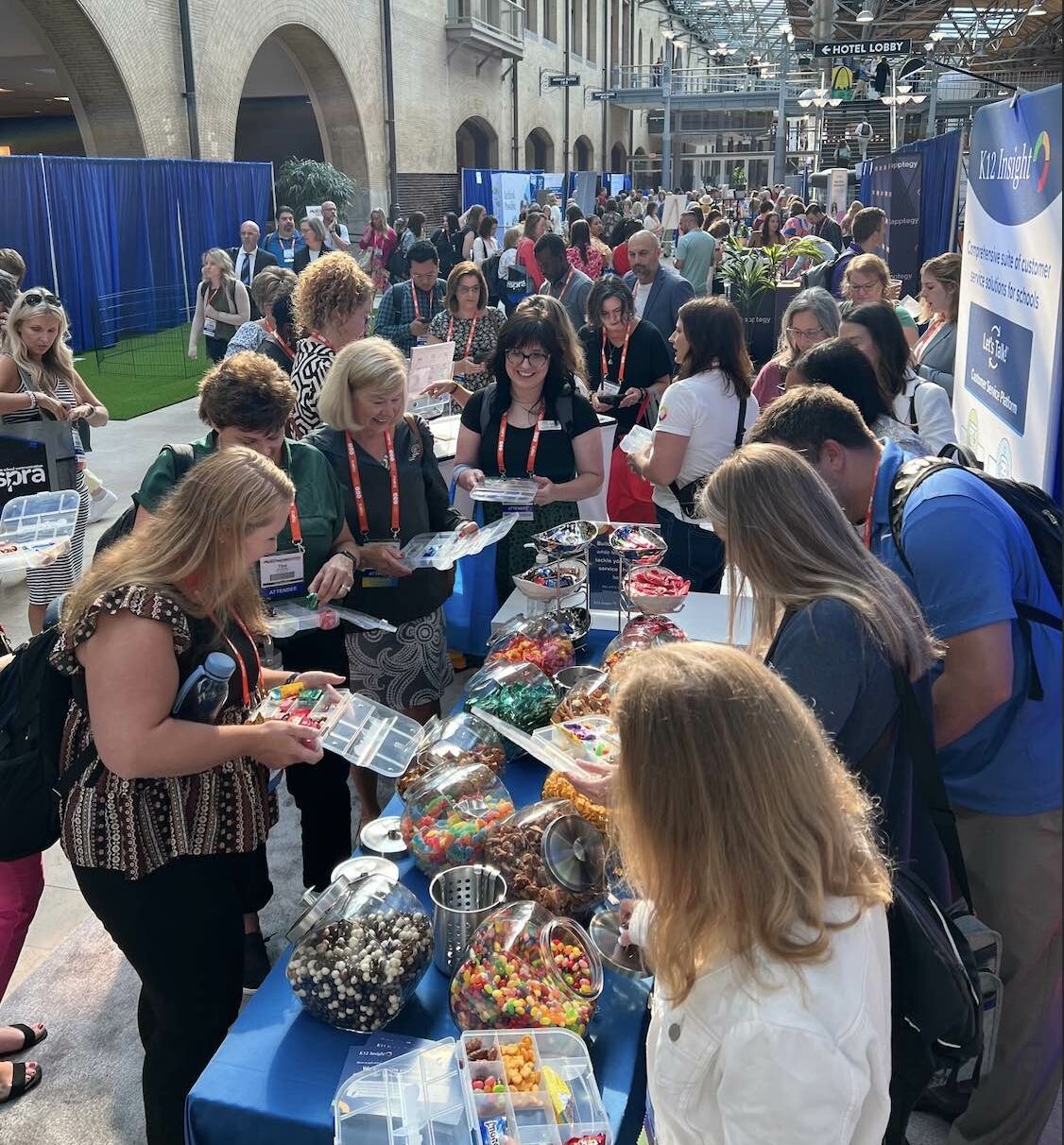 Thanks to all who attended, presented, shared their story, and made connections during this summer's NSPRA seminar. See you all next year in Seattle!
Register today!
Customer service workshop for K-12 school leaders