Empowering frontline district and school staff with strong customer service skills is mission critical. Once considered only needed by retailers and restaurants, customer service has become crucial for school districts — especially as options for families expand through school choice programs, charter schools, and virtual schools.
The school environment is quickly evolving and families have more questions than ever before about COVID-19, remote learning, and other changes — causing a spike in anxiety, which must be carefully handled by frontline staff to maintain trust and relationships. 
"A quality school experience extends beyond teaching and learning. The virtual courses equipped our frontline staff with the training and practice we needed to improve the school experience for our stakeholders — building trust and improving engagement."
— Nick Figueroa, Chief of Family and Community Engagement at Providence Public School District
In addition, customer service-focused professional development can help school district leaders make progress on their strategic plans — especially in the areas of family and community engagement, communications, equity, and more. 
How professional development increases satisfaction and decreases response time
Last year, Providence Public Schools registered over 30 frontline staff members for a series of customer service courses offered by K12 Insight. 
The results were tremendous. The district's average customer experience (Cx) score increased from 5 to 8.03 (out of 10) and its average response time decreased from 5.8 business days to 1.07 business days.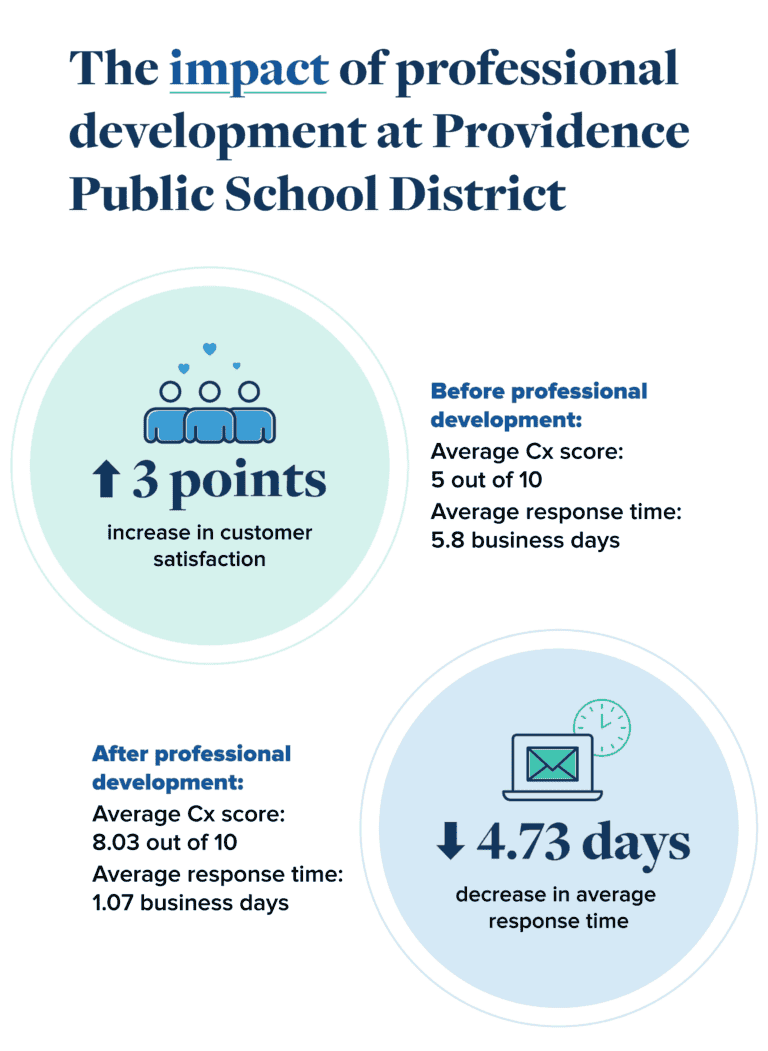 Through professional development for customer service, school districts can train their staff to go beyond answering questions — calming upset stakeholders, making people smile in every interaction, and winning people over.
Turn everyday interactions into exceptional experiences
We all know a quality school experience extends beyond teaching and learning. Districts must help their frontline staff develop the soft skills required to successfully navigate complex situations and conflicts with families — especially as many school staff are feeling overwhelmed, stressed, burned out, and ill-equipped to manage the influx of inquiries from families. 
K12 Insight's one-hour virtual courses — developed by seasoned K-12 education professionals and experts — provide the coaching and practice frontline staff need to deliver an excellent experience.