One-third of parents don't know where to go when they have a question. Twenty-five percent of parents "distrust" or "feel neutral" about their school district. 
The era of school choice has arrived — and when students leave your schools, their dollars go with them. Losing just five students can cause a budget shortage equivalent to one full-time teacher's salary.
Customer service is no longer a "nice to have" for school districts. It's a necessity. 
But launching a customer service strategy that really makes a difference for your district can be difficult. For any large-scale organization, change takes time. 
Many vendors promise quick fixes or a silver bullet solution if districts launch their software. The team at K12 Insight knows it takes more.    
Transforming and streamlining internal operations, rerouting incoming inquiries to the appropriate department to ensure quick response times, and other customer service "must-dos" all take planning and effort beyond a single software implementation. 
Whether you're using K12 Insight's Let's Talk platform or another solution, here are seven questions to ask when executing your customer service strategy: 
1. Is this a single department task, or a districtwide initiative? 
Customer service affects every element of a family's experience — from the bus driver that picks a student up on their first day of kindergarten to the superintendent that shakes their hand as they walk the stage at graduation. 
Family's experiences with your district are not siloed, so your customer service delivery shouldn't be, either. 
Your customer service implementation team should include every relevant department leader. Successful implementations we've seen include leaders from district offices, boards, principals, and heads of communications, IT, transportation, nutrition, and campus-specific departments.   
The first question you need to ask your cabinet is "Are we committed to a districtwide shift in operations to ensure we're delivering superior customer service at every touchpoint?" 
2. Are our expectations aligned? 
Because this change requires inter-departmental collaboration, it's important to make sure everyone agrees with the direction of the initiative. 
A project plan with agreed-upon goals, metrics, and timelines will ensure alignment. Ensure that customer service is solidified into your strategic plan so that there is clarity on the importance of this initiative for your district and community.     
Don't forget your vendor is an important part of the team, as well! At K12 Insight, we see our client districts as partners in the journey to superior customer service and believe in transparency and honesty about what we can deliver throughout the implementation process.
To ensure your goals and expectations are met, there must be strong communication between your internal project team and your vendor.
3. Are we meeting our community where they're at?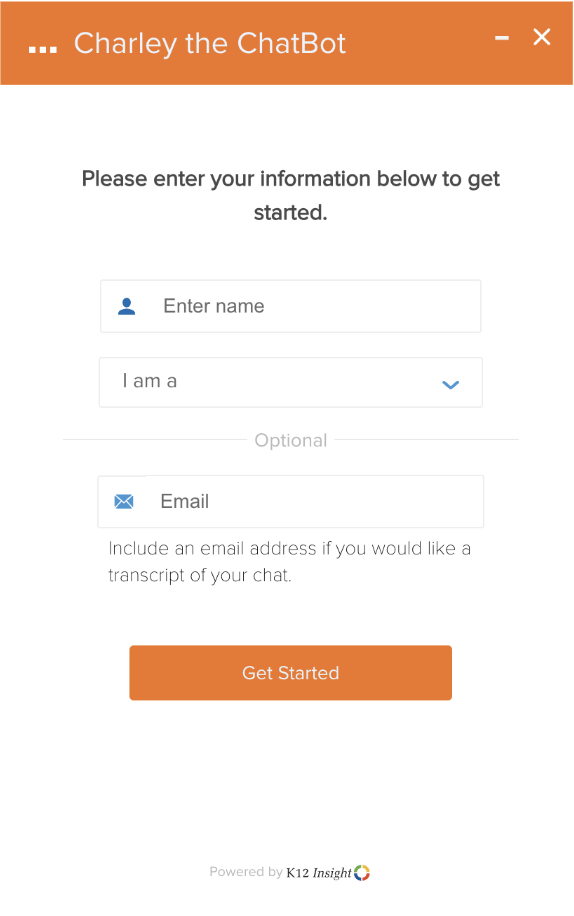 In the Amazon era, most parents have high expectations for the customer service they receive, and their child's school is no exception. In a
recent report
, 43% of families indicated they are open to receiving automated responses from an AI for general questions.
Our partner districts have seen great success launching website chatbots and department-specific texting lines.
Pasco County Schools
(Florida) opened an IT department
texting line so students can send a simple message
when they forget their login credentials. Fort Wayne Community Schools (Indiana)
has answered nearly 7,000 inbound inquiries
with their chatbot (named Charley). 
4. Are we prioritizing internal training? 
As critical as it is to ensure families feel comfortable using your new customer service software, a successful implementation requires buy-in from internal customers, as well. Principals, department heads, and frontline staff like secretaries all need to be trained and confident in the use of new software. 
Moving beyond technology, it's important to equip your staff with the tools, training, and soft skills needed to manage complex situations, difficult conversations, and conflicts with families. 
Our district partnership representatives often make in-person visits for department-specific training. K12 Insight offers live monthly training sessions, on-demand webinars, and a Knowledge Base with examples and how-to guides for district leaders.    
When families are making enrollment decisions, positive experiences stemming from a commitment to customer service-related professional development could be the difference between your school district and an alternative option. 
5. How will we measure success? 
Defining milestones and metrics in the planning stage will make meeting expectations in the implementation stage (and beyond) smoother and more realistic.
Here are some goals our partner districts have set (and met) using Let's Talk: 
Deliver an inquiry response time of 48 hours or less. 

Maintain a customer experience (Cx) score of 8.5/10 or higher. 

Introduce automation and streamline inbound questions with a unified inbox to save staff at least 5-10 hours a week. 

Answer at least 70% of incoming dialogues with an

AI-powered chatbot

. 
Your vendor should provide regular updates on progress against a maturity model rooted in metrics. K12 Insight's partner districts follow an implementation plan that strategically advances their customer service from reactive to fully customer-centric.  
Our Client Success Managers often share insights, tips, and best practices aggregated from hundreds of districts around the country, and provide benchmark data with comparisons to other like-sized districts. 
All of this data tracking and analysis works to help school district leaders take appropriate action in their communities and guide their efforts to continually improve communications and customer service.     
6. Is this action worth it? 
Fully transforming districtwide customer service delivery is a 12-24 month process. It requires a willingness to listen to feedback and take necessary action. 
A successful customer service plan is not limited to one department or office, it demands a commitment to family satisfaction that extends from the superintendent's office to every single campus principal and their staff. 
In short, it takes time and energy. 
And with the right vendor, a supportive cabinet, and quality metrics to gauge progress, it is possible for any school district willing to do the work!  
If you're ready to start on the journey to delivering superior customer service, register for a free, no-obligation customer service workshop with one of our experts. These workshops are available to anyone on your team, can be in-person or virtual, and are entirely free-of-charge. Here's the link to sign up.
Originally published August 1, 2023
Last updated August 9, 2023