When was the last time you considered how families experience interactions with your district? 
Without an intentional approach for customer service, it can be challenging for you to know how every interaction is being handled across your district — and whether families are satisfied.
In our recent webinar "Why Your District's Families Are Frustrated With Your Customer Service," we explored what families experience when they reach out to their school or district and what happens when they can't find answers. 
The webinar highlighted findings from our National Report on Customer Service in Schools, including the surprising number of families who don't know where to go for information and what families think about receiving automated responses from their schools. 
Here are four key takeaways from the report: 
1. One-third of parents report not knowing where to go when they have an inquiry, issue, or service need. 
This was the most impactful discovery from our report — especially because we surveyed the most digitally savvy parents who are already using social media. Imagine a school district with 30,000 students. That means approximately 10,000 parents wouldn't know where to go or who to contact when they have a question or service need. 

Naturally, this leads to frustrated families and significant administrative overhead. All of the resulting misdirected emails or misplaced phone calls pressure school staff to dedicate valuable time and attention to reroute these inbound communications to the correct resource.
Tip: Create a Knowledge Base — also known as an online self-serve library with help articles — on your website so families have 24/7 access to clear answers.
2. As the number of times a parent contacts a district about academics or student behavior increases, parent perceptions about the courteousness of the responses decrease.
If a parent is having to make contact about the same topic repeatedly because they don't know who to contact at first, they're bound to get frustrated. It's not unreasonable to think staff members may become less courteous as they communicate with increasingly frustrated parents.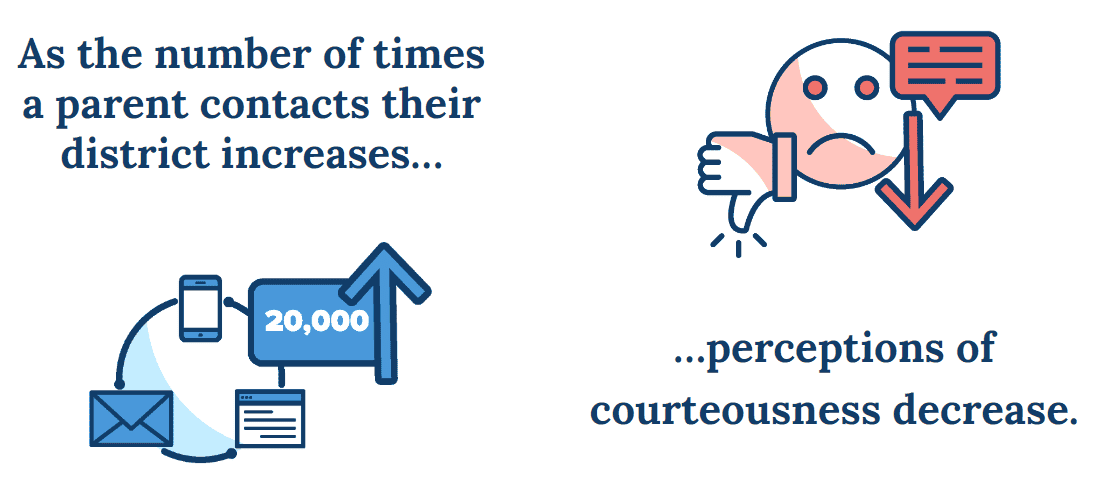 Tip: Reduce the number of contacts needed to get answers and ensure every interaction is courteous.
3. Of those parents who report a lack of clarity as to where to direct their inquiries, approximately two-thirds of them are characterized as Detractors or Passives by Net Promoter Score (NPS).
For a quick refresher, NPS measures the likelihood of a customer recommending a brand or place of business. Detractors are likely to be outspoken in their dissatisfaction with a district, Passives are likely to be quietly happy with their district, and Promoters are likely to be actively recommending their district to their friends and family.
If questions and concerns go unanswered — or if there is a delay in response time — this could be associated with diminished perceptions of your district's ability to provide excellent customer service. However, parents who are able to get to the right person to resolve an issue or answer a question give their districts higher NPS ratings than parents who are not able to find the right person. And, as we learned from our previous report released last November, a high NPS rating is related to fewer families considering leaving your district.
Tip: Ensure families know who to reach out to when they have a question or concern and are served well with every interaction. 
4. At least 43% of parents indicated they are open to receiving automated responses to their questions or concerns.
When we focused on the top 13 topics parents contact their schools about, we found that on 8 of those topics, over half of the parents preferred an immediate automated response over a response from a live person. And across all 13 topics, at least 43% of parents preferred the automated response.
We find this encouraging given the number of parents preferring automated responses is expected to grow as more and more children who grew up as digital natives are now becoming parents with children in schools. 
Tip: Embrace digital tools — such as the Let's Talk Assistant chatbot or Knowledge Base — to help your families find information when they need it while reducing the burden of district staff.
"Time is the most valuable commodity we have, and if we take two hours a day tracking down the right people to answer questions, we lose two hours to those tasks that only a principal or district administrator can tackle." – Mike Grego, public education veteran and retired superintendent
Now more than ever, it is critical districts prioritize delivering superior customer service with every interaction. Here are four opportunities to improve customer service districtwide:  
Make it easy to contact the right person.

When you make it clear for families where to go for information, you are reducing the number of touchpoints needed to get an answer. 

Every touchpoint matters.

From the interactions with the bus drivers to the front office staff, every touchpoint is an opportunity to provide superior customer service districtwide. 

Make sure your staff is equipped with the customer service skills needed to help families

. School districts like

Corpus Christi Independent School District

have made customer service professional development a priority for front office staff and it has made a positive difference on interactions with families districtwide.

Embrace automation.

Putting systems in place for automation — like

chatbots

— will not only make it easier for your families to get answers, it will give your staff more time back in their day. Additionally, automation helps prevent the misrouting of communications or parents misidentifying the right source for information. 
When you get people to the right place and they get the right answers, not only do you improve your customer service, you're building trust with your stakeholders and community. 
The first step to improving your district's customer service is reading the National Report on Customer Service in Schools. To learn more about how your district can apply these findings and take the next step in delivering superior customer service, request a consult.
Originally published April 20, 2023
Last updated September 22, 2023