Each of these phases is defined by a school district's performance in three categories — the three pillars of K-12 customer service.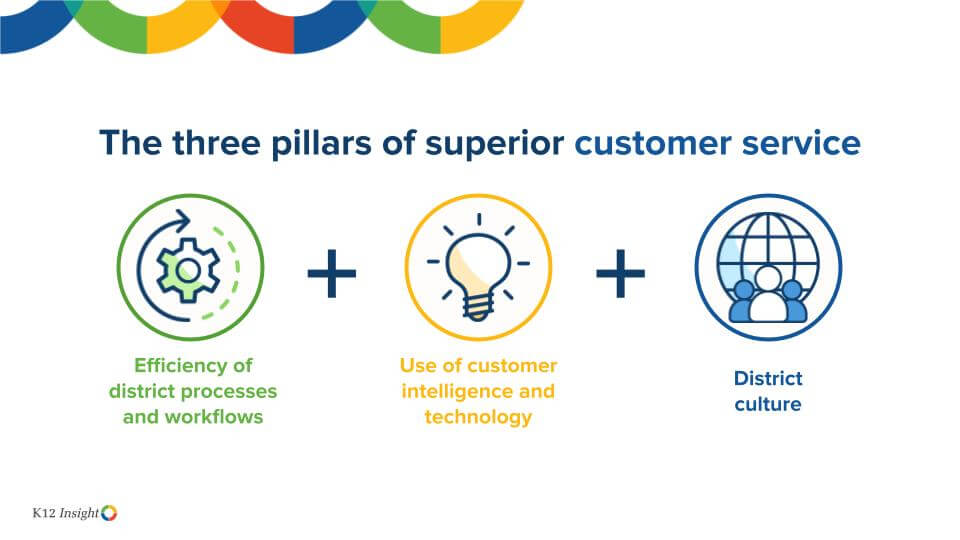 Intentionally designed, customer-centric district culture can be secured by ensuring communications access to every family in your district. By guaranteeing every customer the same ability to engage with your staff, you're guaranteeing a better experience for all. 
In order to realistically offer that access, you need streamlined, efficient, and logical backend workflows. When processes are automated and transparent, the likelihood of delivering quick, accurate, consistent answers increases tenfold. 
The final piece of the puzzle requires performing quality checks on your customer service by measuring customer satisfaction with their districtwide experience. Every touchpoint is an opportunity to deliver superior customer service, but to ensure you're hitting the mark, you need to collect metrics on every interaction.  
Here's how to move your district along the journey to delivering superior K-12 customer service:
Elevate internal processes and workflows  
Oftentimes, the reactive phase of customer service is a result of siloed, departmental, or campus-based approach to communications — but this is an unevolved method that leads to miscommunication and inefficient practices. 
To elevate backend workflows and game-change the way business is done districtwide, a unified, collaboration-forward approach is the only answer.    
We recommend: 
Transferring all existing workflows into a singular platform that prioritizes backend collaboration and automatically reroutes inquiries to the appropriate departments

Utilizing standardized response templates to ensure consistent answers, automated Critical Alerts to watch for potential crises behind the scenes, and automated workflows to speed up internal communications  

Ensuring every campus site has autonomy while continuing to align with districtwide processes and the use of a singular platform for communications 
Analyze customer intelligence and utilize technology  
In the Amazon era of highly customized customer care, expectations are sky-high — and school districts are not exempt. 
We found 43% of parents are open to receiving automated responses to their simple questions or mild concerns. But when their inquiries are more complex, parents expect personalized, time-sensitive service. 
To meet the rising needs of their families, school districts need to implement specialized, tailored customer service that matches the distinct expectations of their communities.   
We recommend: 
Integrating your Student Information System (SIS) with your communications platform 

Increasing visibility into districtwide customer service and experience metrics, including average response times, customer satisfaction scores, and more

Leveraging data and metrics to drive districtwide decision-making
Design a customer-centric district culture 
In the reactive phase of customer service, members of a district community likely feel lost. Data recently revealed by K12 Insight's National Report on Customer Service in Schools, "An Opportunity — or Obstacle — at Every Touchpoint," showed one-third of parents don't know where to go when they have a question or concern. 
Every parent wants their child to succeed in school. But when parents have concerns about their child's education or behavior and aren't getting the support they need, it erodes their trust in the district — leading them to consider other educational options.
To move into advanced phases of customer service delivery, districts need to implement new or revised strategies and concepts that make communications simpler — and answers easier to find. 
We recommend: 
Adding a text line to help families without a phone plan or internet access reach district staff 

Introducing an always-on, AI-powered chatbot to allows families 24/7 access to FAQ answers

Implementing a streamlined method for inquiry submission — in other words, guaranteeing a quick response no matter how or where a customer submits their question 
Register today
Free customer service workshop
Originally published June 27, 2023
Last updated September 19, 2023