The perception of your school district is shaped by the experiences your families have with their schools. But to measure and improve perceptions, you need a baseline. 
So how can you start measuring what families say and feel about your district?  
In our recent webinar "Unlocking the Secrets NPS Tells You About Your District's Families," we explored how school districts can use Net Promoter Score (NPS) to do exactly that. NPS is a quick and easy measurement that gives school administrators a pulse on how families perceive their district. 
To calculate NPS, school districts can implement a one-question survey that asks "How likely are you to recommend your school district to family members or friends?" Families answer the question by giving a score between 0 and 10, and, depending on their response, fall into one of the following categories: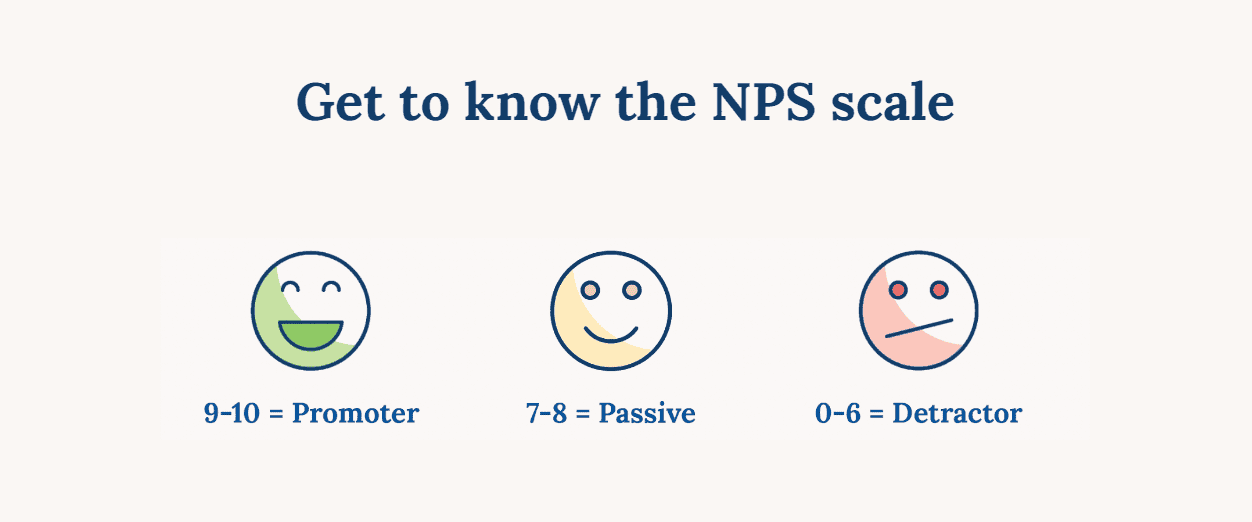 Here's a look at what we learned about Promoters, Passives, and Detractors in our National Report on the Impact of Parent Satisfaction on School Districts: 
Promoters
Promoter families are your district champions and brand advocates. They are happy to recommend your district to their friends and neighbors. They don't ask many questions because they feel they can easily find any information they need. Even if they don't love everything about your district, they trust you are doing your best.
Passives
These families are quiet yet satisfied with the quality of communication with their school, so they contact their district less often than Detractors. Passives feel well-informed and able to easily find the information they need. With trust in their district, the Passive family is likely to recommend their district to family and friends.
Detractors
Detractor families aren't recommending your district to others, and they may be telling others about their negative experiences. They are also more frequently thinking about leaving your district for alternative options when compared to other families. With little to no trust in their district, the Detractor family feels the need to actively pursue information, so they are constantly reaching out for the facts they need.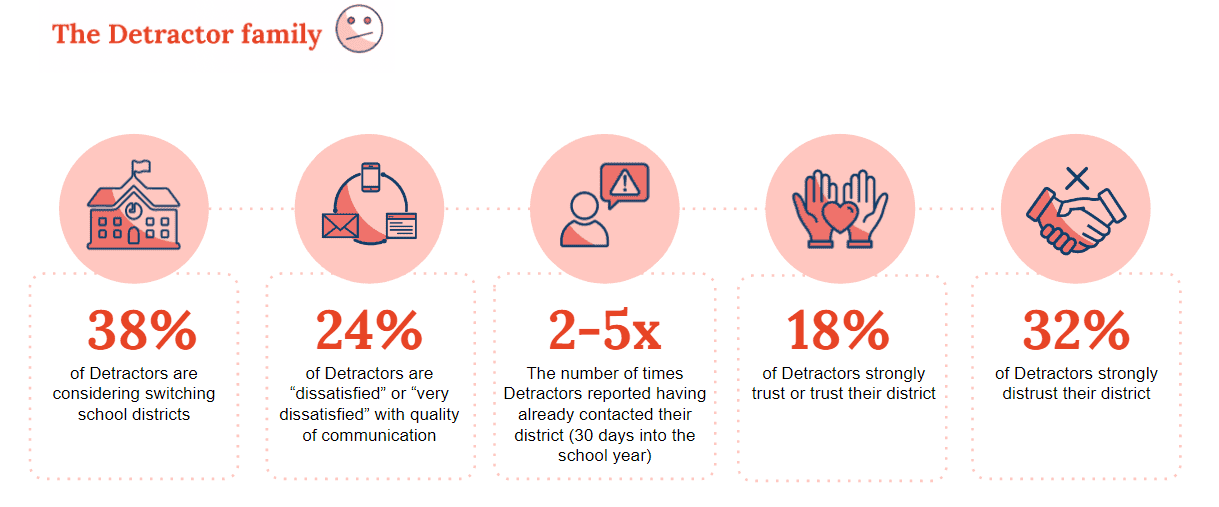 In addition to sharing findings about Promoters, Passives, and Detractors, we shared three key takeaways to help school districts better relate to their families and increase satisfaction during the webinar: 
1. There is a connection between communication quality and NPS.
There are moderate to strong correlations between every single statement we asked about communication quality and NPS. Examples of statements included:
"When I have a need, I am able to easily reach the right person."

"When I have a need, I receive a response that is courteous." 

"Overall, the information I receive is timely."
We found that everything from being able to reach the right person to perceiving information received as helpful to overall customer satisfaction, as an NPS score increases by one point, that respondent's scores on communication quality increase by .5 to .75 of a point. 
Takeaway: If you want more families to recommend your district, working on communication quality is a great place to start.
2. There is a relationship between student attrition and NPS.
Families with positive perceptions of customer satisfaction and communication quality are less likely to consider leaving their district and more likely to recommend the district to others. 
Takeaway: The higher the NPS score, the less likely a family is to consider leaving.
3. Districts are hearing from Detractors more often than Passives and Promoters.
Detractors are often the loudest voices in your district. Luckily, this means you have more opportunities to change their mind about your district. 
Takeaway: Interactions may not always be positive, but your staff has a powerful opportunity to influence the customer experience. 
Understanding how families perceive your district can help you identify opportunities to deliver superior experiences with every interaction, leading to better experiences and engagement. Using NPS, districts can begin identifying Detractors and identify opportunities to take action and turn those families into Promoters – which means keeping more families in your district. 
The first step to bringing NPS to your district is reading the National Report on the Impact of Parent Satisfaction on School Districts. To learn more about how your district can apply these findings and take the next step toward tracking NPS in your district, request a consult.
Originally published November 22, 2022
Last updated September 25, 2023