Today, most school districts have dozens of entry points for communications and hundreds of staff members responsible for answering questions. Ensuring consistency, meeting response time expectations, and managing concerns before they become crises are all crucial tasks for school district leaders. 
And with so many incoming inquiries, it can feel impossible to cut through the noise and understand what really matters to families. 
Every quarter, K12 Insight surveys thousands of parents of K-12 students to find out what's important to them. In our March 2023 report, we learned 30% of families don't know where to go when they have a question, and that 1 in 12 families is actively considering other educational options. 
Families have told us the most important factor in satisfaction with their child's school district is access to communications — so learning 30% of parents feel lost when seeking information was alarming.
We work closely with our partner districts to ensure every family in their community has access to answers on their timeline and in their preferred language. That's why we invited Melissa Musselwhite from Pasco County Schools (PCS) to share her district's story at the 2023 NSPRA National Seminar.   
For those unable to attend Melissa's session, here's a recap: 
Communications solutions for the COVID era and beyond
In March 2020, every school district in the world was faced with a big question: How do we get critical information to parents? 
PCS turned to Let's Talk from K12 Insight, the only all-in-one, enterprise-wide customer service and intelligence platform built for education. 
Before implementing Let's Talk, PCS had inquiries coming in from every direction. Multiple staff members would often be working on answering the same question without the other's knowledge, and response times dragged. 
In short, communications across the district was more difficult, time-consuming, and expensive than it needed to be.  
They wanted a solution that would streamline and organize inquiries to increase efficiency and customer satisfaction. But as they started the journey of transforming communications and customer service, they realized they needed a system that allowed for an effective exchange of information with built-in workflows and automation to promote collaboration. 
It needed to be bigger than any one department — it had to be districtwide. 
Elevating communications with Let's Talk 
When PCS launched Let's Talk, they adopted its unified inbox, which takes communications from every inbound channel and routes it through a single platform. From there, keywords automatically direct messages to the correct person or department.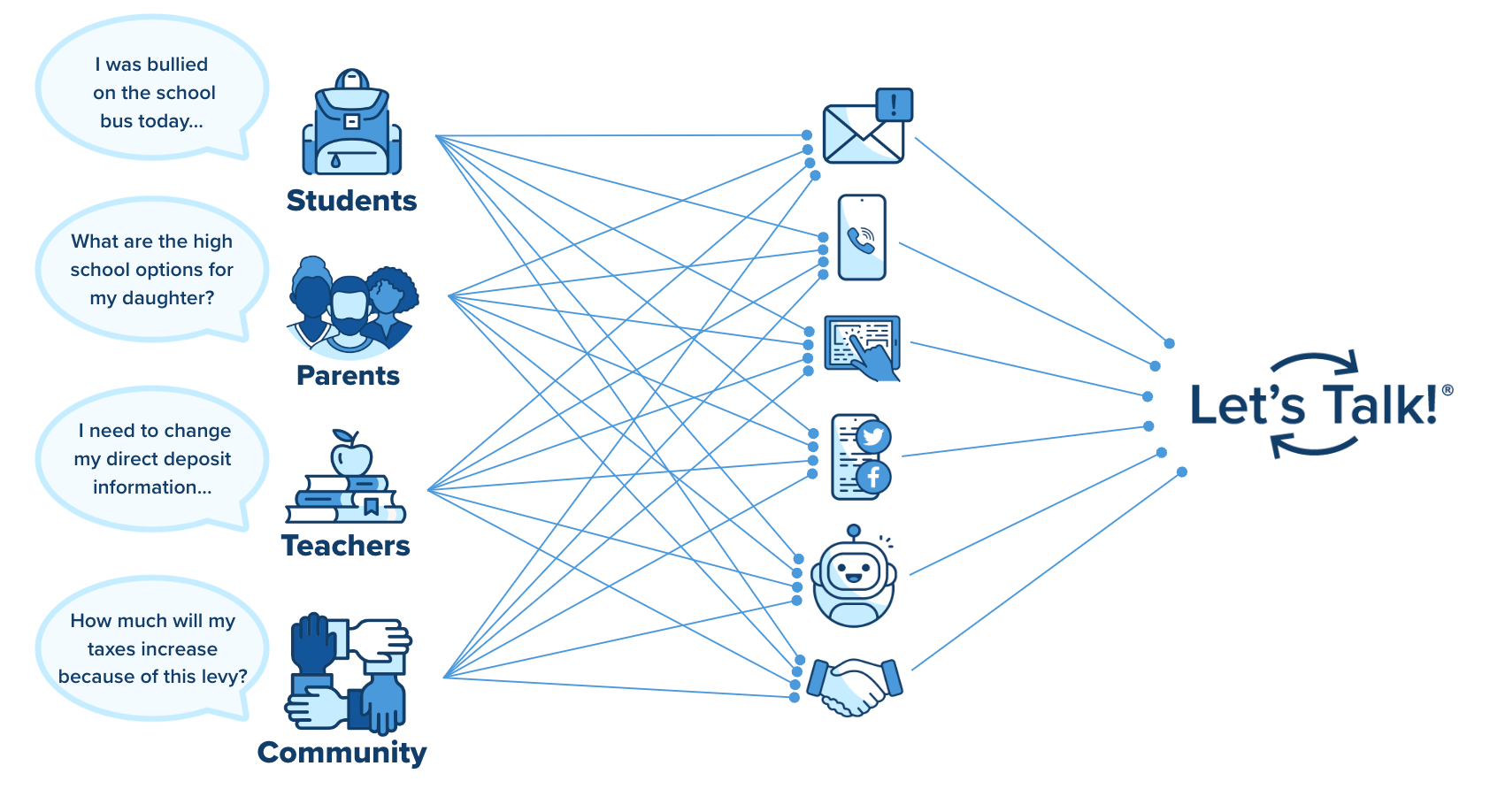 They quickly realized Let's Talk had positive implications that would last well beyond COVID-related school closures. 
Here's an example Melissa gave during her presentation: When a family moves and needs to update their bussing pick-up location, all they have to do is submit a Let's Talk dialogue within the "Transportation" topic. The message will go directly to the transportation department and the data can be updated without parents ever needing to pick up the phone. 
If further clarification is needed, staff can respond to the dialogue with a question. If the parent submits their request under the wrong topic, the receiving department can re-route the dialogue on the back end with a single click. 
Cutting through the noise with real-time data
Let's Talk also has a dashboard that offers quick and valuable insights from real-time customer input and feedback. 
Before Let's Talk, PCS had almost no customer service data to rely on. They didn't have a method for tracking metrics like response time, duplicate efforts on messages, or trending topics. 
Today, they utilize the Let's Talk dashboard to get daily updates on things like: 
Response times and unanswered inquiries

, which ensure every question gets an answer

Districtwide "hot topics"

, which are used to build board meeting agendas  

Campus-specific trending topics

, which are used to update school site landing pages with relevant information 
AI-powered automation 
The Let's Talk unified inbox streamlined processes for PCS. But once they learned 70% of questions coming into school districts every year are repetitive inquiries, they knew they could save even more time with Let's Talk Assistant, the always-on, AI-powered chatbot from K12 Insight. 
Today, their chatbot answers hundreds of questions a month — saving staff hours a week and ensuring parents have access to information 24/7. PCS also connected their chatbot to the Let's Talk dashboard to track metrics on frequently asked questions.
SIS-integrated call center technology 
Further advancing their goals of superior customer service, PCS recently introduced Let's Talk's Telephony features for fast, accurate assistance through SIS-integrated phone call management. 
Now, when a parent calls in to a school or district phone line, Let's Talk will identify their phone number and bring up relevant customer information, including names, school sites, and bus route numbers of the caller's child.  
Instead of asking time-consuming questions about correct last name spelling or the details of specific bus drivers, staff have information on-screen immediately to get answers out quickly. 
A districtwide commitment to customer service success
Since launching Let's Talk, PCS has developed customer-centric habits and workflows, setting them up for continued customer service success. 
They hold themselves accountable through a "Success Plan Scorecard" — a quarterly report filled with customer service metrics like average response time and Customer Experience score. The scorecard also has benchmark data comparing PCS to other like-sized districts around the country. The data is shared with internal staff, families, and the school board every quarter.  
The process of revolutionizing districtwide customer service is extensive and requires a commitment from leadership at every level — from the school board to campus principals. 
Let's Talk has helped PCS tackle their customer service challenges, ensure transparency, and automate workflows. Since 2020, they've grown exponentially and plan to continue working toward the gold standard of customer-centric service at every touchpoint. 
Our partner districts work in tandem with their K12 Insight representatives to identify the most pressing needs and take action in a meaningful but manageable way. As Melissa Musselwhite shared during her NSPRA presentation, "The journey to superior customer service is long but worthwhile."
Interested in learning how your district can start the journey to superior customer service? Learn more here or request a free, no-obligation consult by filling out the form at the bottom of this page.
Request a Consultation
Ready to streamline inbound communications, identify problems before they become crises, and make data-driven decisions in your school district? Let's schedule a time to demo our solutions and talk about how K12 Insight can help.