Serving nearly 210,000 students, the Houston Independent School District (HISD) is the largest school district in Texas and the seventh-largest district in the nation.
Every day, its 1,400 transportation officials ensure the safe transport of more than 36,000 students across an astonishing 86,000 miles. In an average school year, the department receives more than 24,000 parent calls.
The challenge: A poor customer service experience around transportation issues
"Faced with a high volume of questions and complaints from parents and other customers coming in by phone, email, and social media, the transportation services department needed a unified way to receive, listen, and respond to community concerns," said Patrice Humphries, HISD's general manager of business operations and support.
The solution: A streamlined, accountability-driven approach to customer service
In 2018, the district turned to Let's Talk from K12 Insight — the only customer service and intelligence platform purpose-built for K-12 school districts. Let's Talk streamlines communications by driving all inbound inquiries to a unified inbox. From there, keyword detection automatically routes messages to the appropriate person or department. It also logs and tracks every question from the community, meaning:
Repeat inquiries can be dealt with en masse, instead of one-by-one

There is an accurate, time-stamped record of every interaction
Team members are held accountable for responding to every question quickly and accurately
No emails, phone calls, or social media messages fall through the cracks
The result: A game-changed system for managing communications
Since launching, Let's Talk has helped reduce the number of inbound inquiries to the transportation department by more than 90%. 
A streamlined communication process that has helped officials improve response times, share more accurate information, and focus on delivering students to school safely and on time.   
Working smarter, not harder
Let's Talk appears as a tab or button on the school district website. When families submit their questions, they select a topic — so the HISD transportation department only receives messages directly related to their jobs. And, when families ask questions about bussing to their campus or school site, it's automatically routed to the transportation team so parents aren't waiting around while staff email behind the scenes. 
"Through Let's Talk, the transportation team can actively solicit and receive stakeholder input on key decisions, while inviting questions, comments, compliments, suggestions, and concerns about any topic accessed easily anytime from any device," says Humphries.
Driving a positive customer experience
The reduction in calls and emails has enabled department officials to spend more time actively serving community members. During the first three weeks of school, call volume for HISD transportation related inquiries dropped from 24,501 in 2018-2019 school year to 23,431 in the 2019-2020 school year. During that same period, average call length increased by nearly a minute. 
Rather than prioritizing quick responses, Humphries says the team now focuses on ensuring that its responses are complete and accurate. A real-time dashboard shows department leaders how many inquiries are coming in, how long it takes them to respond, and how effectively community members feel they are being served.
Where the transportation chief's office used to receive 20-30 escalations a day, Humphries says that number has dropped to as few as two per day.
See Let's Talk in action
Check out HISD's Let's Talk landing page here.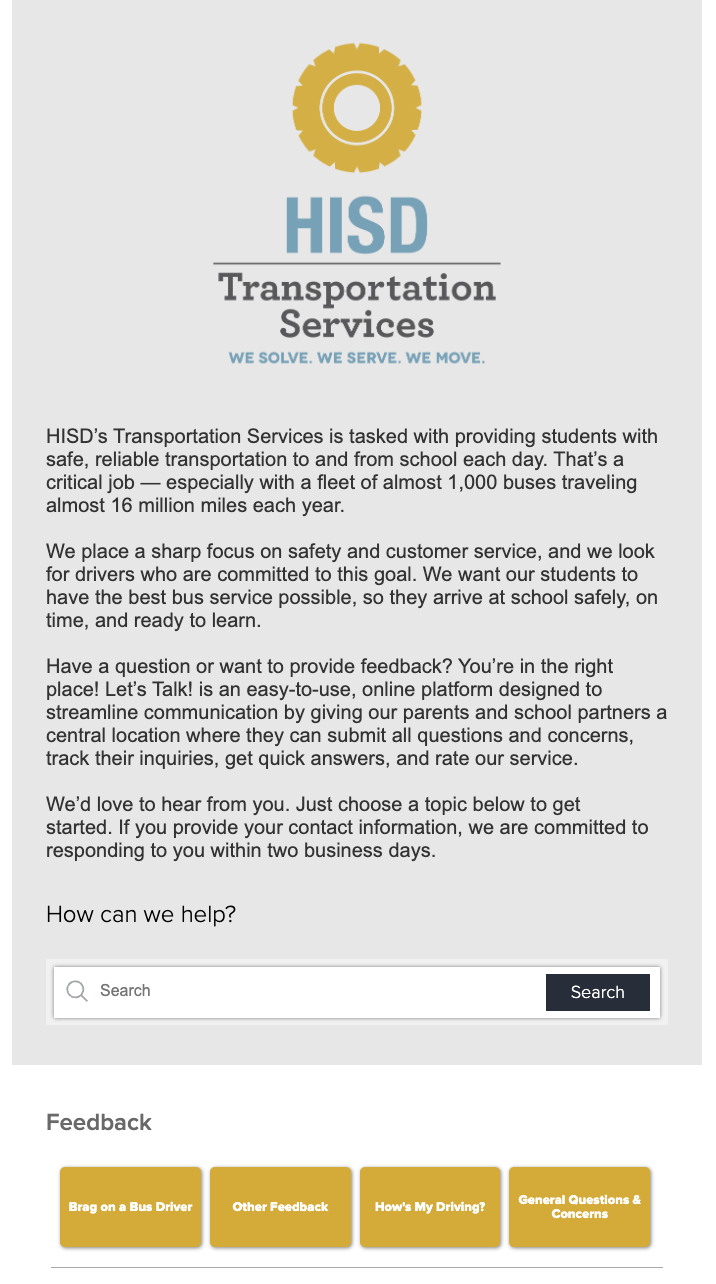 Let's Talk can improve customer service while streamlining departmental complexity and communication in your district. Request a consult here or start by reading more about school customer service here. 
Request a Consultation
Ready to streamline inbound communications, identify problems before they become crises, and make data-driven decisions in your school district? Let's schedule a time to demo our solutions and talk about how K12 Insight can help.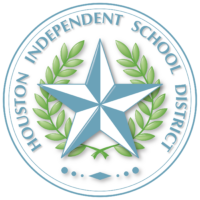 School District
Houston Independent School District