Bus routes, graduation rates, test scores. 
Many of the issues education leaders are facing today are the same ones we've been managing for decades. But while teacher and family concerns haven't changed, the way we talk about them has. 
Every school district has dozens of communication entry points — from phone calls and emails to social media conversations and texts — and dialogues are happening 24/7. Discussions about concerns are no longer private between school districts and their customers. They're online and in public view.  
This new reality has had many repercussions, including a tendency for public perception of a school district to be swayed by misinformation or the limited but loud opinions of a vocal minority. 
To cut through the noise, school districts need a reliable way to track data and identify the most important issues. And it all starts with open, visible communications practices that extend from principals to administrators to school board members. 
Austin Independent School District's journey to transparency 
Years ago, Austin Independent School District's board members tracked questions informally —  on paper with no accountability for follow-through. They eventually transitioned to a digital spreadsheet, but were still missing the reporting needed to ensure every question was answered. Even more importantly, there was no way to see whether customers and board members were satisfied with responses. 
Board members often asked questions to any administrator they saw — even a principal at a specific school site (who may not understand the district vision) or the chief financial officer (who only sees things from one perspective). 
AISD wanted a solution that would help them: 
Organize questions from board members

Ensure accountability and confirmation of follow-through on requests

Improve speed and accuracy of responses

Foster collaborative, open communications
"Our goal was to build mutually beneficial relationships based on shared expectations, while keeping both the board and the administration focused on their work." — Stephanie Hawkins, Community Relations Coordinator (Austin Independent School District)
Getting buy-in from district leadership
They needed the right partner to help them accomplish these goals, and when the communications team found Let's Talk from K12 Insight, they knew they had their solution. 
But getting buy-in from district leadership took time. 
They started by meeting with individual members of cabinet to audit workflows and identify the most pressing issues. From there, they worked with the K12 Insight team to understand exactly how Let's Talk could help. As true partners, AISD leadership and K12 Insight collaborated to create efficient workflows, data-driven reports, and a special dialogue tracking feature for board members.  
In 2018, they launched Let's Talk. Now, the district offers one dedicated place for all board members to ask questions and get responses!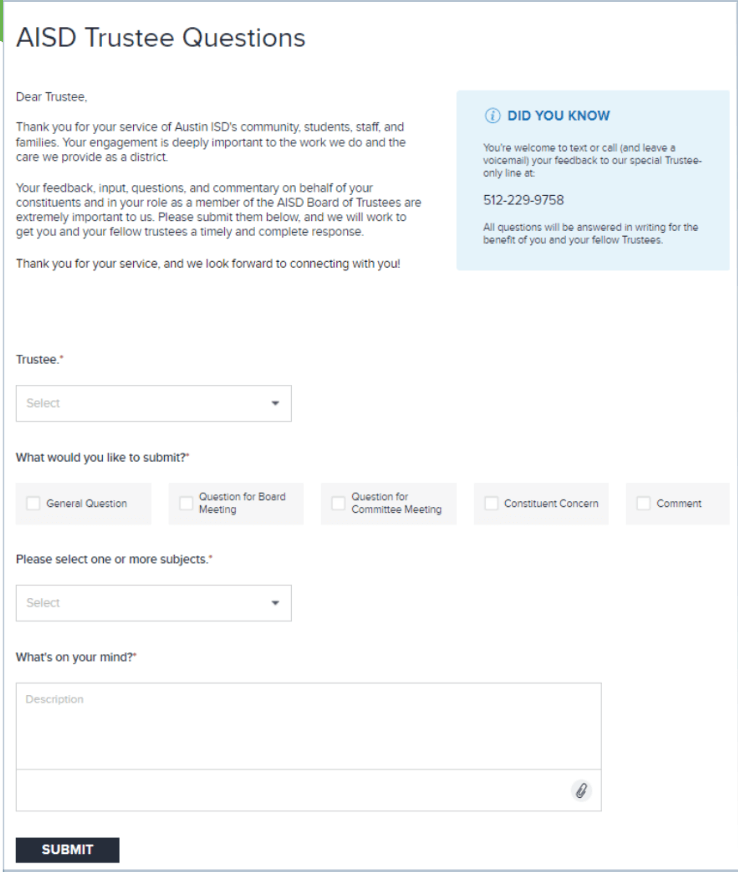 How Let's Talk has revolutionized board and district communications
Let's Talk provides a unified inbox for managing questions. The platform empowers AISD administrators to collect questions, gather answers, and share timely, accurate information with board members and the greater community. 
Thanks to Let's Talk, board members now have: 
A transparent view into all dialogues

Accountability — both between themselves and district leadership

Fewer repeated questions

Data for informing agendas and making future decisions
The transparency — both internal and external — has led to increased trust. Board members have visibility into every question and answer, and ticket times are tracked on the back end to ensure every inquiry receives a response. 
In addition, AISD is saving time with fewer repeated inquiries. They know what topics are top-of-mind for their community because data and analytics call out the most-asked questions. 
In 2021, K12 Insight helped every building principal launch a customized Let's Talk texting line so school communities could submit questions and receive answers about their campuses.
Let's Talk from K12 Insight has helped Austin Independent School District transform communications for their board members, district administrators, and school communities. How can it help you? 
Request a Consultation
Ready to streamline inbound communications, identify problems before they become crises, and make data-driven decisions in your school district? Let's schedule a time to demo our solutions and talk about how K12 Insight can help.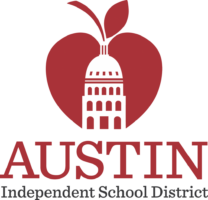 School District
Austin Independent School District